Hermitage Re-opening November 5th!
We will re-open with Covid-19 precautions and have begun taking reservations. For your safety we'll be receiving only one guest at a time, so you will have private access to Refectory/Library and the Chapel, but there will be no Morning Prayer in common for now.
Your patience and help have been such a blessing this year and we are most grateful to all of you who have responded to our Summer Letter and Appeal.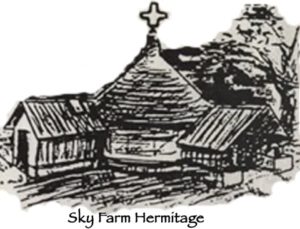 Sky Farm Hermitage is an ideal setting for anyone seeking a retreat in silence and solitude in a quiet and sacred environment. This secluded place in the hills of Sonoma is quiet yet full of birdsong. Here the Spirit teaches the heart through silence. We hope that time spent here will nourish the call to contemplation that echoes deep in the cave of every human heart.
View photos, find out more about the hermits, personal retreat and book your reservation. On the resource page learn more about the roots of solitude in sacred history.
If you shop on Amazon will you please consider making Sky Farm your charity of choice. Your ordinary shopping will be a great support for the Hermitage. smile.amazon.com/ch/68-0201334 .
czqvuwtfvvbavqyrse