Blessings from Sky Farm Hermitage where we continue to pray for healing and peace. The Hermitage isn't open yet, but we hope to be open by Mid-April and welcome you to request dates.
We are thankful for your patience, prayers and support as we continue to be united with you in spirit during the Desert Journey of Lent. May the gift of Solitude show us ways to tend our heart and one another.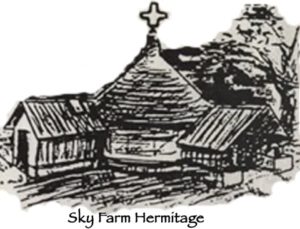 Sky Farm Hermitage is an ideal setting for anyone seeking a retreat in silence and solitude in a quiet and sacred environment. This secluded place in the hills of Sonoma is quiet yet full of birdsong. Here the Spirit teaches the heart through silence. We hope that time spent here will nourish the call to contemplation that echoes deep in the cave of every human heart.
View photos, find out more about the Hermit Monks, personal retreat and book your reservation. On the resource page learn more about the roots of solitude in sacred history.
If you shop on Amazon will you please consider making Sky Farm your charity of choice. Your ordinary shopping will be a great support for the Hermitage. smile.amazon.com/ch/68-0201334 .